Patented charging station. Made in Germany.

Patented Design
Quality made in Germany

The charging artist
Charges all devices

Quickcharge 3.0
Charging with highspeed

No cable chaos
Cables completely hidden
Why you need an ALLDOCK.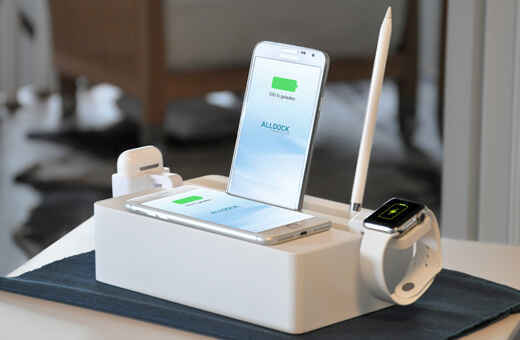 Patented Design
with sophisticated technology.
Our patented design is not only based on functionality and elegance, but on you as well! It is inspired by the timeless design style of Braun products developed by Dieter Rams.
The ALLDOCK combines the most sophisticated technology and design to create an elegant charging station. Thanks to its innovative spirit and attention to detail, the ALLDOCK is a functional work of art that perfectly blends into any home or office.
 
---
All your devices
charged with one station.
With the ALLDOCK you can charge really all your electronic devices. It comes already equipped with the common charging cables (Lightning, USB-C). 
Smartphones, tablets, digital cameras, headphones, smartwatches and Bluetooth speakers, even the Apple Pen, the Apple Mouse, all USB keyboards and the remote control of your Apple TV and our new ALLDOCK Wireless Powerbank, are compatible with the ALLDOCK charging station.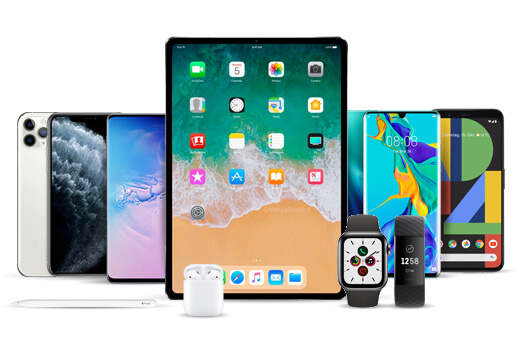 ---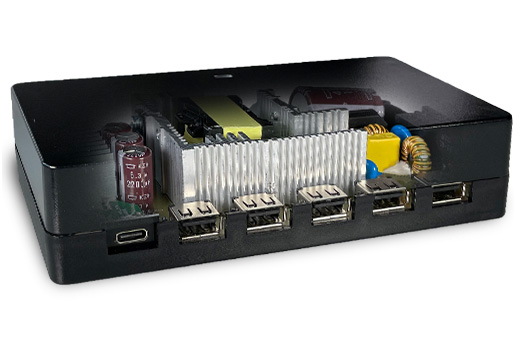 Alldock-IQ™-Technology for super fast charging.
The integrated charger with the Alldock-IQ™-technology is the heart of your ALLDOCK. While conventional charging stations operate at standard or the fast charging speed, you are in the fast lane with the ALLDOCK charging with almost twice the speed of the others.
The integrated power supply circuit identifies the type of device and automatically selects the best charging method for each USB port and electronic device.
This saves you time and allows you to concentrate on more important things.
---
Bye bye, cable mess.
Cable chaos is not only a dust catcher and a dangerous trip hazard, but also looks rather messy. Knotted cables now have an end, because ALLDOCK has the solution for you!
The timeless and functional charging station allows you to prevent cable clutter by joining the cables together. ALLDOCK combines all your USB cables and electronic devices.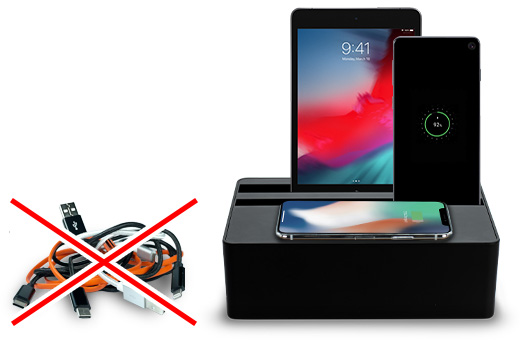 What others say about the ALLDOCK.

"We have so many smartphones, tablets and smartwatches these days, but no room to load them all. ALLDOCK makes it possible to charge four to six devices at the same time"

"ALLDOCK allows you to find your ideal charging station to fit all your devices in one easy place. It allows you to avoid messy cables and having to charge multiple devices all over your home."

"The ALLDOCK is super-easy to set up, comes with internal charging attachments to minimize cable clutter, and will look good no matter where you set it."
---